Today I am jumping back up on my spay/neuter soapbox and share with you some great statistics that I have. It's all about Spay/Neuter Baby! The stats prove that high volume and accessible spay/neuter is what will truly make a difference in lives saved in your community.
In 2008 a spay/neuter earthquake happened in Massachusetts. Organizations like the Massachusetts Society for the Prevention to Cruelty to Animals, Dakin Humane, Second Chance Animal Shelter, Charles River Alleycats and the Merrimack River Feline Rescue Society all began high volume spay/neuter programs in their areas. Many of these programs were targeted on specific communities, but some weren't and just provided low cost spay/neuter services across the region.
It's all about Spay/Neuter Baby
One targeted project that I was involved with was a project started in 2008 in Lowell, MA. Lowell is a city with a population of 125,000 people and over 10% live under the poverty level. In 2008, the shelter was frequently overloaded with cats and kittens. The cats and kittens tended to overflow into other areas of the shelter.
Summer time wasn't very pretty. Thanks to the help of a multi-year commitment with PetSmart Charities we had some help! Then program manager, Bryan Kortis, the helped develop the Catmobile (a mobile spay/neuter clinic for cats). Over the course of six years there was a dramatic reduction in the numbers of cats and kittens surrendered to Lowell Humane thanks to that help (see fig 1 and fig 2)!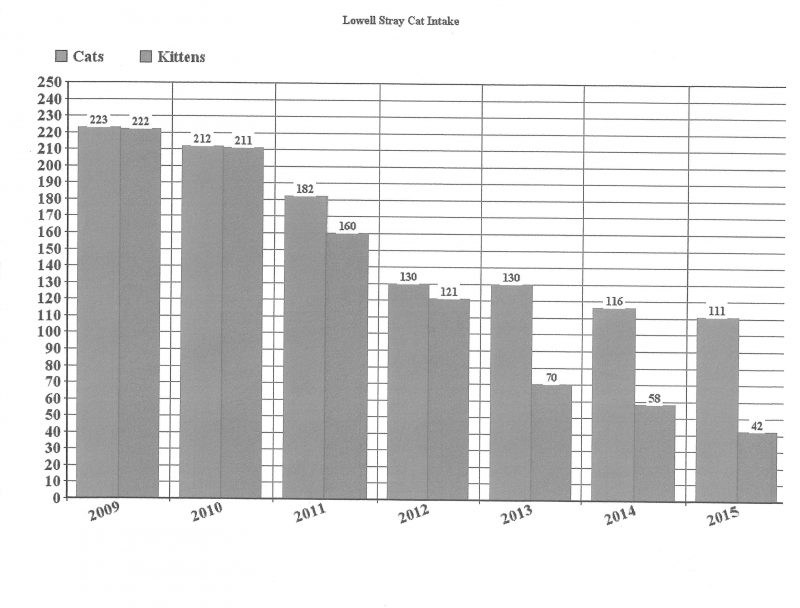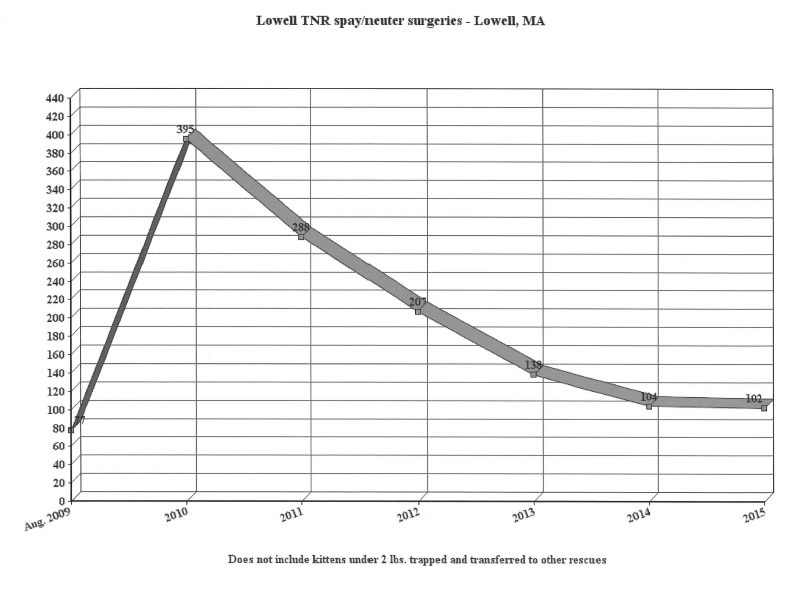 From 2009-2015, Lowell Humane had a drop of kitten intakes from 222 to 42, representing an 81% drop. For adults, the drop was 223 to 111, a 50% decline. You can't argue with these numbers! It is now commen for the Lowell Humane staff to say that they never see kittens anymore. We also had a student do her statistics project on the case. For those that like statistics feel free to check it out!
Jill O'Connell and Crystal Arnott were on the Community Cats Podcast to talk about this experience.
Laura Heffernan who is the head of Lowell TNR, the group that started aggressive TNR in Lowell, was my very first episodes and you can check it out HERE.
So, how does one targeted project affect a region?
At the same time that the targeted project in Lowell was happening, there were also smaller scale projects happening in Haverhill, Methuen, Lawrence, Dorchester and Roxbury. These were target areas that represented the highest numbers of cats and kittens surrendered into the Massachusetts Society for the Prevention of Cruelty to Animals (MSPCA).
Over the years, the MSPCA worked to offer low cost specials for people to get their cats spay/neutered. In Boston, Charles River worked to focus on the ferals and other groups assisted in other regions.
From 2009-2016, the MSPCA saw kitten intake drop from 2744 to 964 (a drop of 75%) kittens and adults were down from 7899 to 3587 (a drop of 55%). See Below: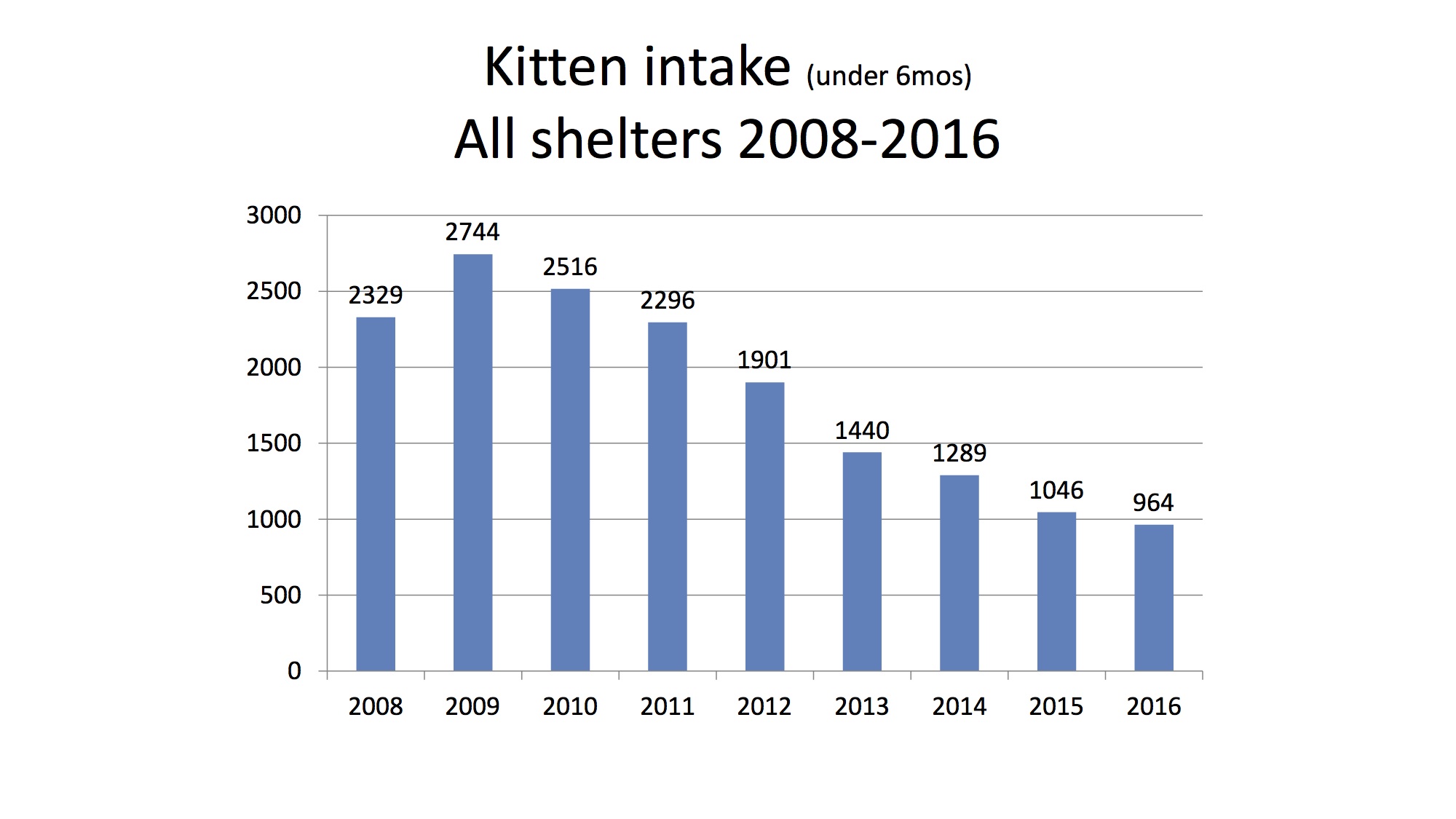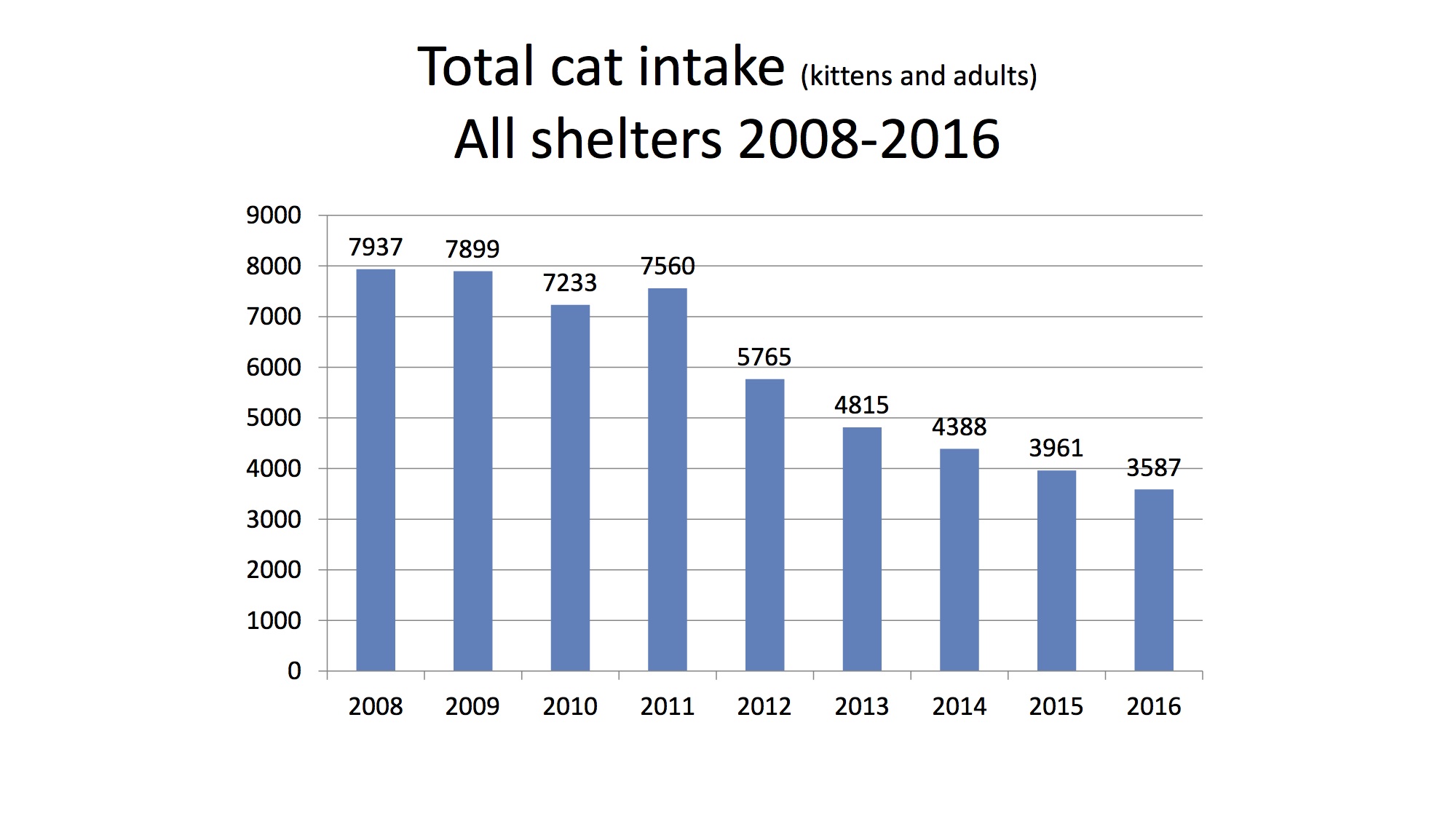 Feel free to have a listen to these episodes that reference the story of how the cat numbers have declined!
You can't fight the numbers, they tell the whole story! So please remember, when you are talking with local shelters and authorities, don't forget the power of spay/neuter and the impact it can have!
Don't miss this exciting announcement:
Aly and Paul here! Wanted to thank you so much for doing such an amazing podcast on our short film AERIS about our kitten with FIP back in December.
Wanted to share with you the trailer that's finally here!
Wow! We just love it, guys! Thanks so much for sharing!