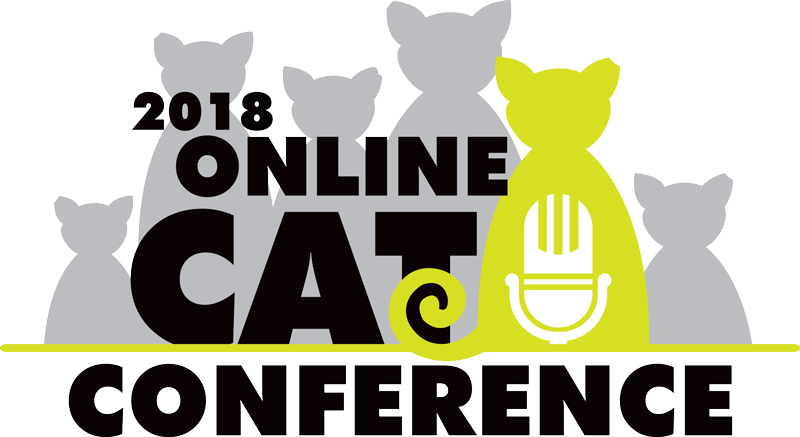 January 26, 27, 28 • Itinerary
Please be aware, schedule is subject to change.
---
6pm-8pm EST: Conference Kick-off with Stacy LeBaron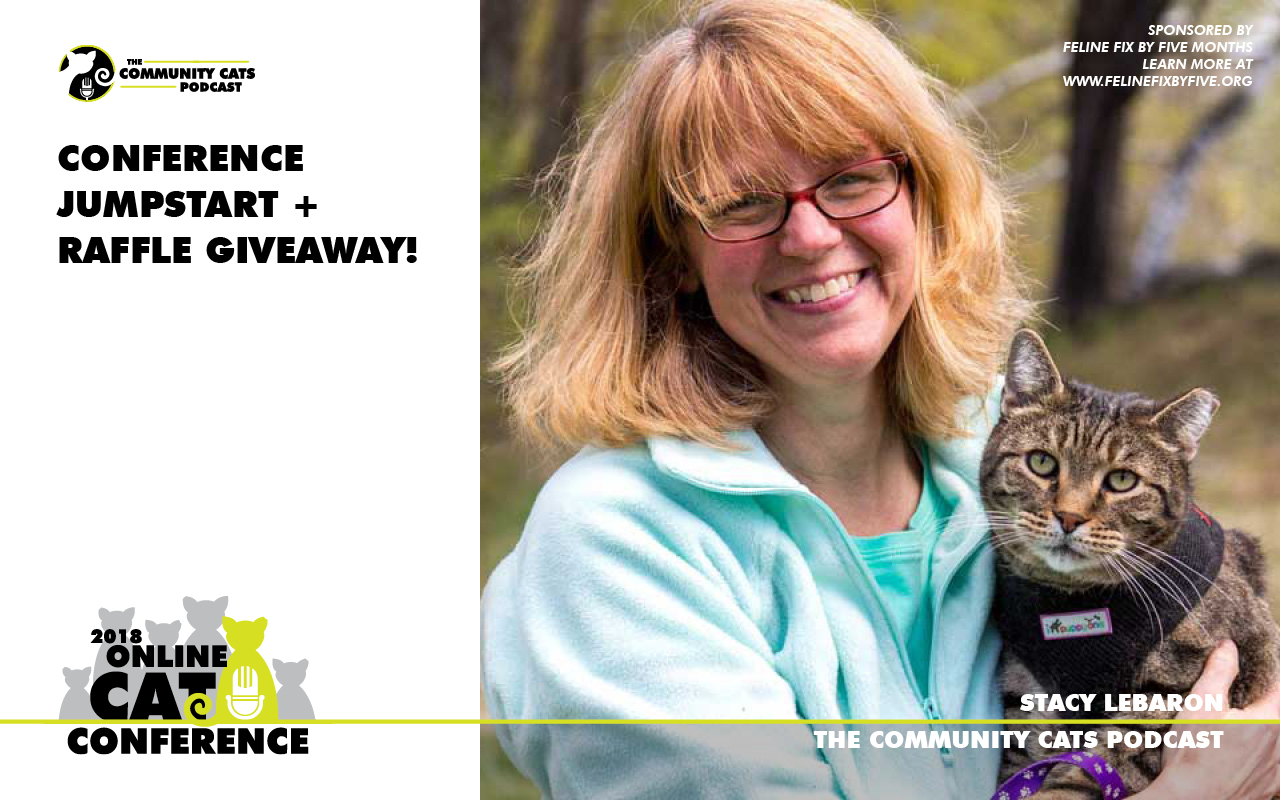 Online Cat Conference Founder Stacy LeBaron will kick off the conference with important information, technical support and RAFFLE giveaways! Be sure to join for a chance to win one of our great prizes.

About Stacy LeBaron
Formerly the President of the Merrimack River Feline Rescue Society, LeBaron has over 20 years of experience with cat advocacy and is now focused on providing education, information and dialogue to create a supportive environment empowering people to help cats in their own communities.
---
10am-12pm EST: Workshop: Let's Save Some Kittens!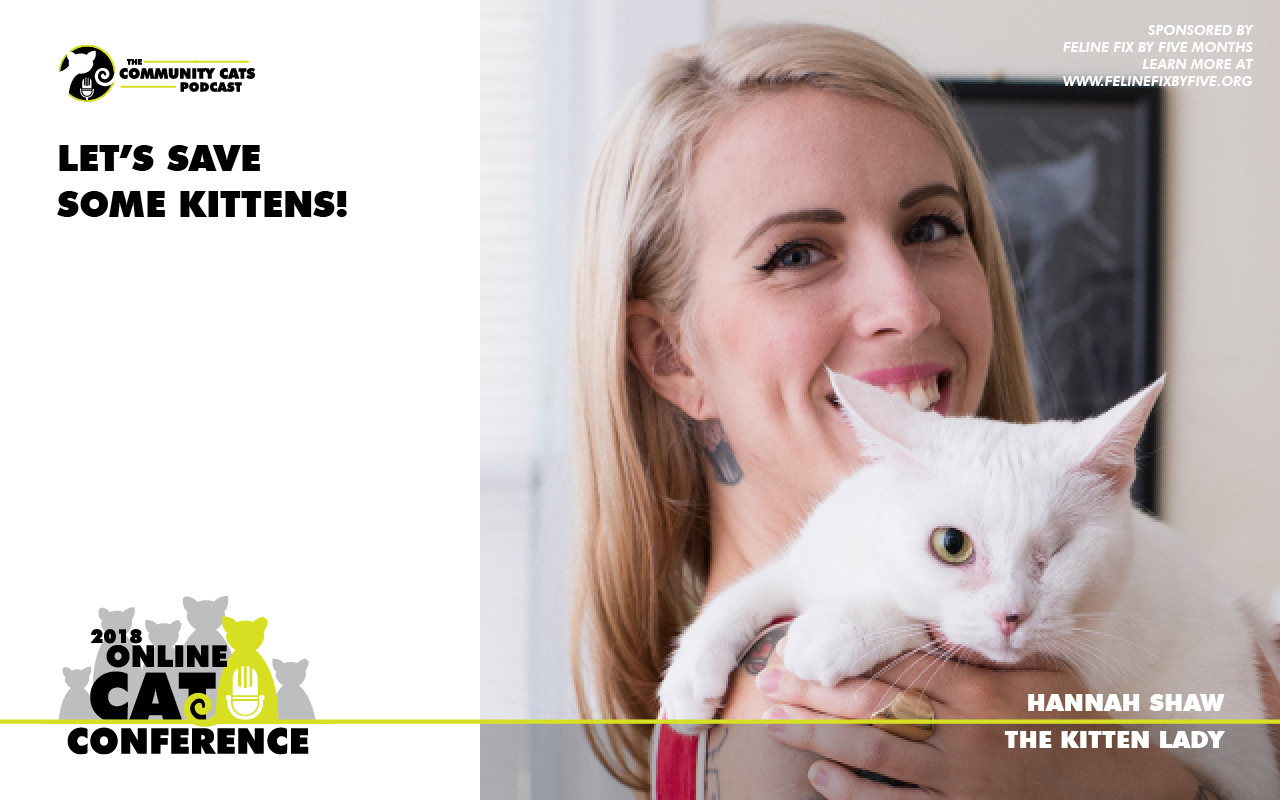 Hannah Shaw, otherwise known as The Kitten Lady, joins us for our online conference. Learn everything you need to know about saving kittens' lives. She'll be talking all about Kittens and Bottle Babies, too! This event will cover the ins and outs of kittens, including an overview of issues impacting cats and kittens, how to set up your home, manage your time, and make fostering fun, how to properly feed, clean, and provide basic medical care to a kitten, and how to get involved in your local community!
About Hannah Shaw
Hannah Shaw is a kitten rescuer, humane educator, and unwavering animal advocate who has dedicated her life to finding innovative ways to protect animals. Her project, Kitten Lady, strives to create global change in the way we perceive and treat the tiniest and most vulnerable felines: orphan kittens. Kitten Lady provides educational media, training resources, and instructional workshops and consulting services that help individuals and animal shelters learn how to save the lives of kittens--in a fun and engaging format. Shaw has been featured as a guest expert on Animal Planet's My Cat From Hell, and her work has been profiled in People Magazine, Cosmopolitan, and other media outlets around the world. Shaw was awarded the 2017 Advocate of the Year award by CatCon Worldwide. 
For additional information, visit
http://www.kittenlady.org
.
---
12:30-2pm EST: Workshop: Be Tip-Top: TNR Best Practices and Advocacy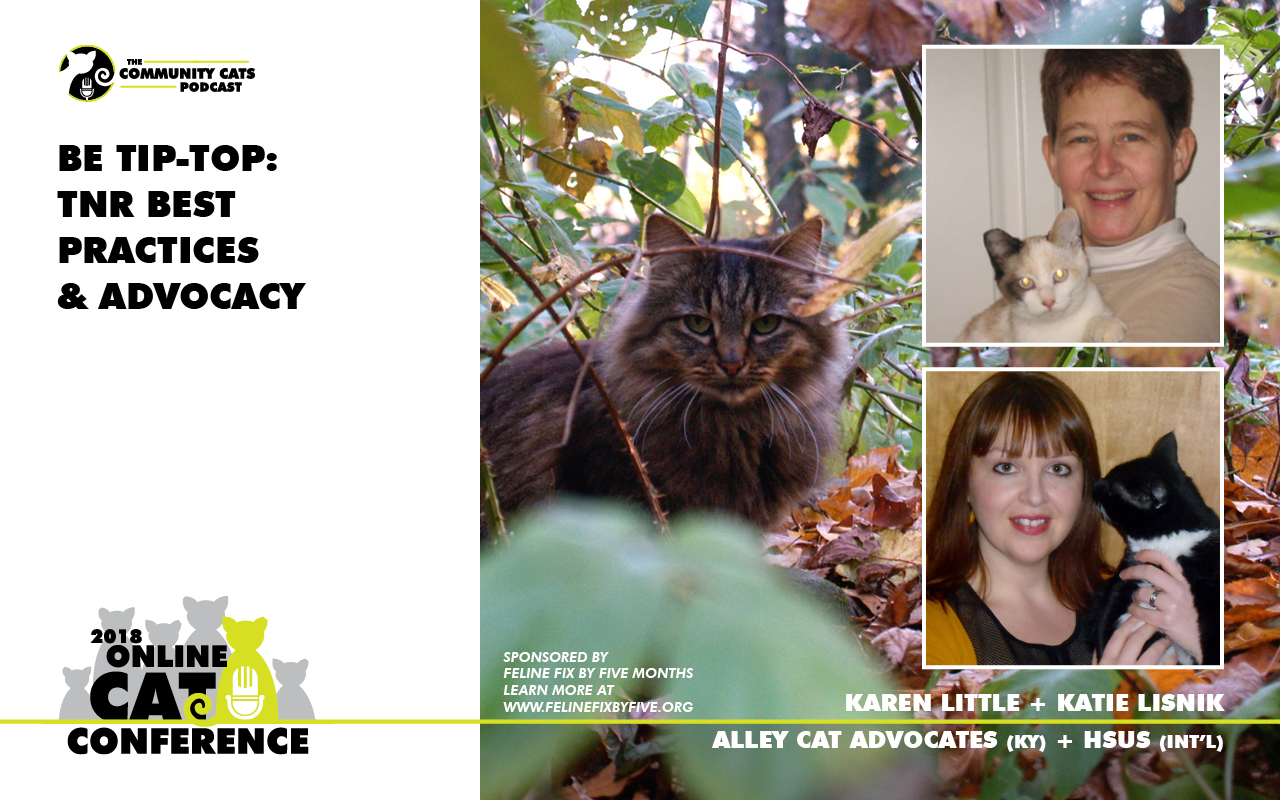 The theory and goals of trap-neuter-return (TNR) have been well documented and many cat lovers have taken the concept to heart. However, there are still lots of questions about how to best implement this humane strategy in our backyards and in communities- especially those with policies and laws that may conflict with non-lethal programs.  This presentation is for anyone who wants to improve upon current TNR efforts and to better understand the legal and community engagement challenges that are often encountered.  

About Katie Lisnik
Katie Lisnik is the Director of Companion Animal Public Policy for The Humane Society of the United States.  A native New Englander, she is the former Maine State Director for The HSUS and Past President of the New England Federation of Humane Societies.  She currently resides in Vermont with her husband and two adorable cats.  

About Karen Little
Karen Little and her husband founded Alley Cat Advocates in Louisville, Kentucky in 1999. Navigating the challenges presented by a Kentucky community with a non-profit limited admission shelter and an open admission municipal shelter as well as various rescues, Karen put her skills to the test to push for and support the formation of strong, collaborative safety net programs for community cats and was instrumental in putting in place an ordinance change that mandates TNR in the community.  Alley Cat Advocates has altered over 40,000 cats, has watched the live release rate for cats in the community exceed 90%, and continues to strive to make Louisville the safest city in the country to be a community cat.
---
2:30-4pm EST: Workshop: Lost and Found: How community cat caregivers and advocates can help get missing cats back home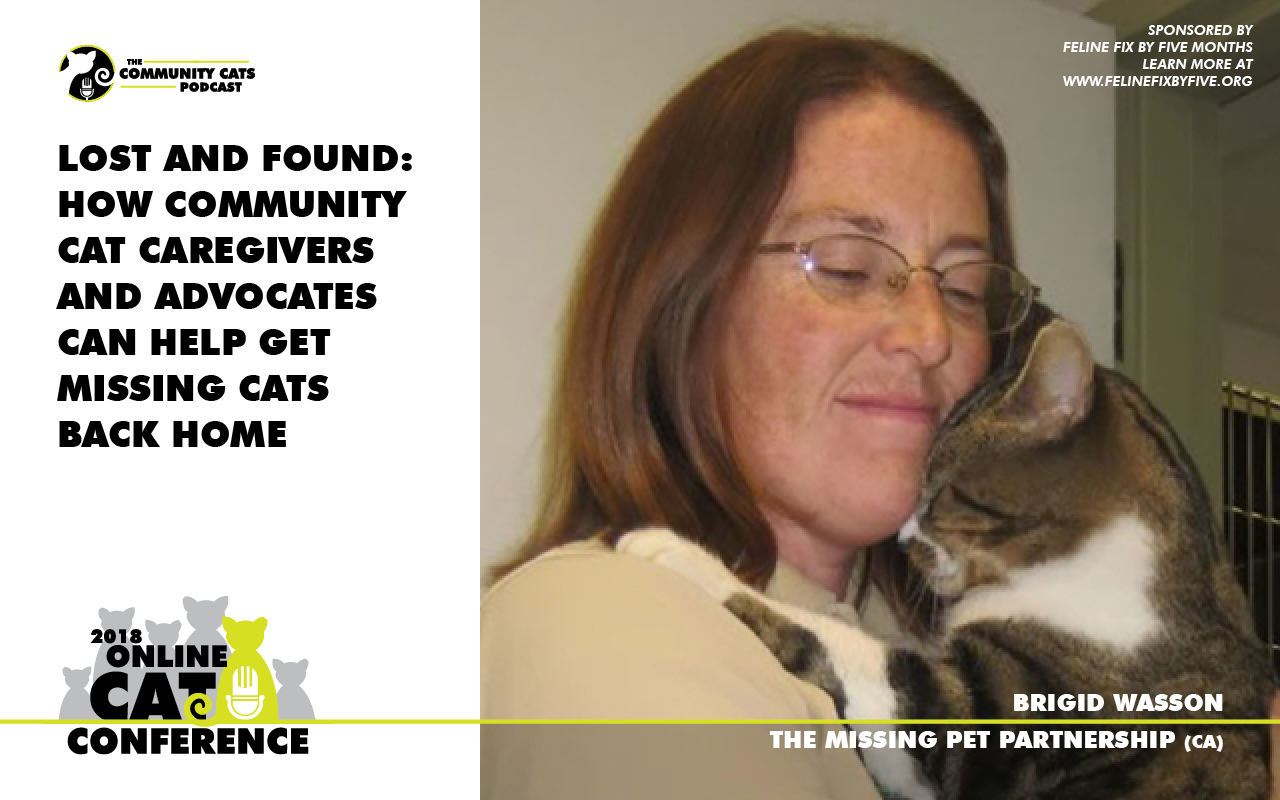 Community cat caregivers are on the front line of feline issues in their neighborhoods. When a new cat shows up, what should you do? Many assume such cats have been abandoned, but this is often not the case. Learn how to identify missing cats and help get them back home. 

About Brigid Wasson
Brigid Wasson is a lifetime animal welfare professional and retired animal shelter director. She has held positions of leadership in both government and nonprofit animal service agencies, focusing on implementing lifesaving programs and increasing live release from as low as 60% to over 90%. Brigid became interested in lost pet prevention and recovery in 2008 when she discovered Missing Pet Partnership, and in 2014 was invited to join the Board of Directors. She currently serves as President of the organization and manages the animal shelter initiatives including Mission Reunite, which teaches animal shelter/pound management, staff, volunteers, and community partners to work together to increase owner reunions and decrease shelter intake. Getting pets back home quickly saves resources that can be better utilized for animals truly in need of a new home such as cruelty or neglect cases. Brigid lives in Sonoma County, CA and is the CEO and Principal Consultant of The Path Ahead Animal Shelter Consulting.
---
4:30-6pm EST: Workshop: Cats & Coconuts: Making Change in Hawaii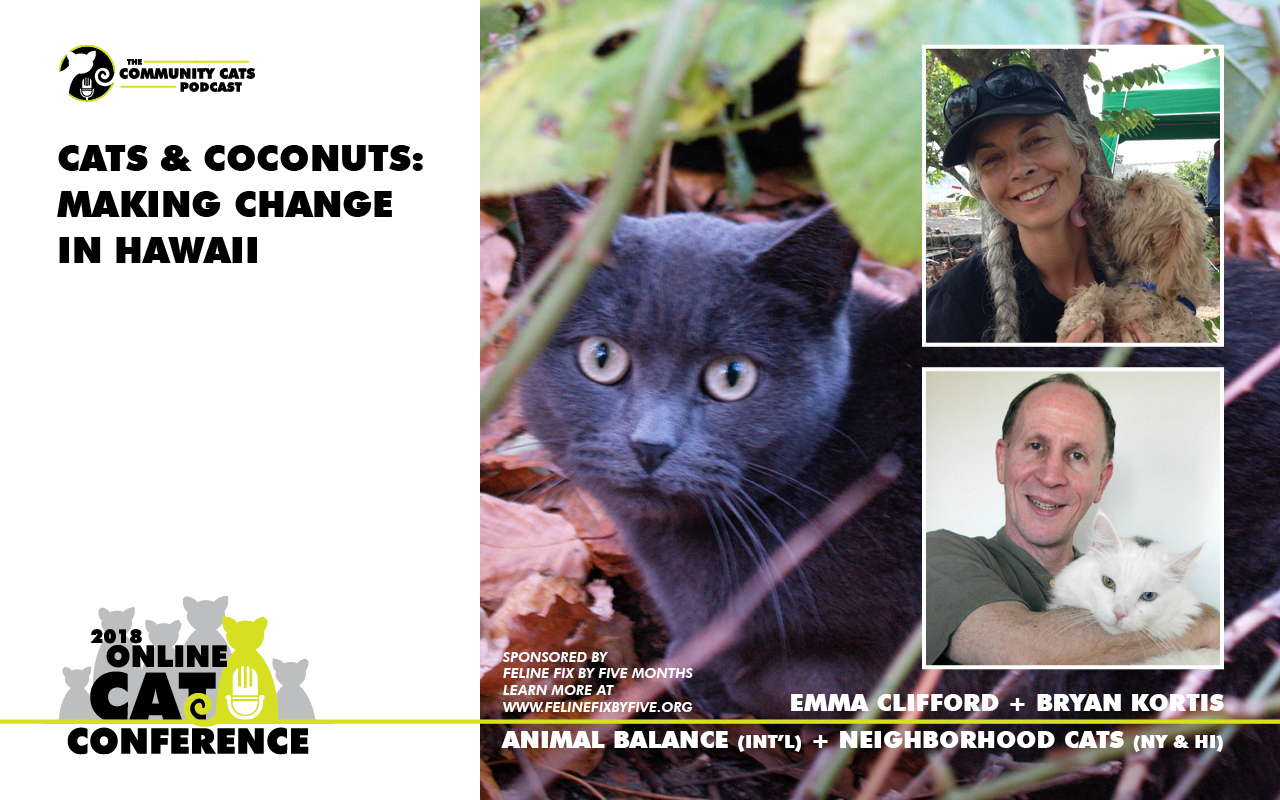 Historically, the Hawaiian Islands have been a rough place for community cats with rampant overpopulation, attacks by conservationists and routine 80 to 90 percent euthanasia rates at local shelters. But in just the past few years, change has taken hold and the cats' future suddenly is increasingly brighter. Hear what's been done and the challenges remaining from two of the on-the-ground leaders of this exciting movement - Emma Clifford of Animal Balance and Bryan Kortis of Neighborhood Cats.

About Emma Clifford
Emma Clifford graduated from the University of Central England with a BA hon in Sociological Research in 1995. Emma was born in the UK into a family who rescued animals. As a teenager, she became vegan and began actively protesting blood sports and other forms of animal cruelty, such as vivisection. After graduating, she moved to the United States and joined the animal welfare movement. For 8 years she worked at a local, national and international level, immersing herself in the movement and learning how to manage a successful non-profit organization. While at The San Francisco Society for the Prevention of Cruelty to Animals (SF/SPCA) she developed and directed the feral cat, foster and sterilization programs. She was also the city representative for the SF/SPCA. She has presented at conferences and advised other humane societies in how to implement these programs in their cities and reduce the city's euthanasia rate.

In 2003, Emma discovered that the cats and dogs of the Galapagos Islands were being poisoned as a means of population control. In response, Emma founded Animal Balance in 2004. Shortly after, Animal Balance began their work sterilizing the cats and dogs throughout the Galapagos Islands. Due to the success of this program, Animal Balance has expanded operations globally. Emma gives lectures and consults with many animal welfare organizations around the world to help find ways to reduce the cruelty and suffering of animals and implement humane and sustainable animal management programs. She now lives in Oregon with her animal pack and enjoys hiking, camping and exploring.

About Bryan Kortis
Bryan Kortis is the current National Programs Director for Neighborhood Cats.  An experienced trapper and community TNR program strategist, he has produced many of the leading educational materials on Trap-Neuter-Return, including award-winning books and videos, and is a frequent presenter on community cat issues. Bryan has also co-designed traps and other equipment popular in the TNR field and led development of Cat Stats, a free online colony database system available to all TNR programs.  He has a Bachelor of Arts degree from Cornell University and a J.D. from the University of California, Berkeley, and resides on Maui with his boss, Neighborhood Cats executive director Susan Richmond, and their personal in-house colony.
---
10am-11:15pm EST: Workshop: Introducing TNR to China - Successes and Key Learnings for Creating Community Mass Trapping Programs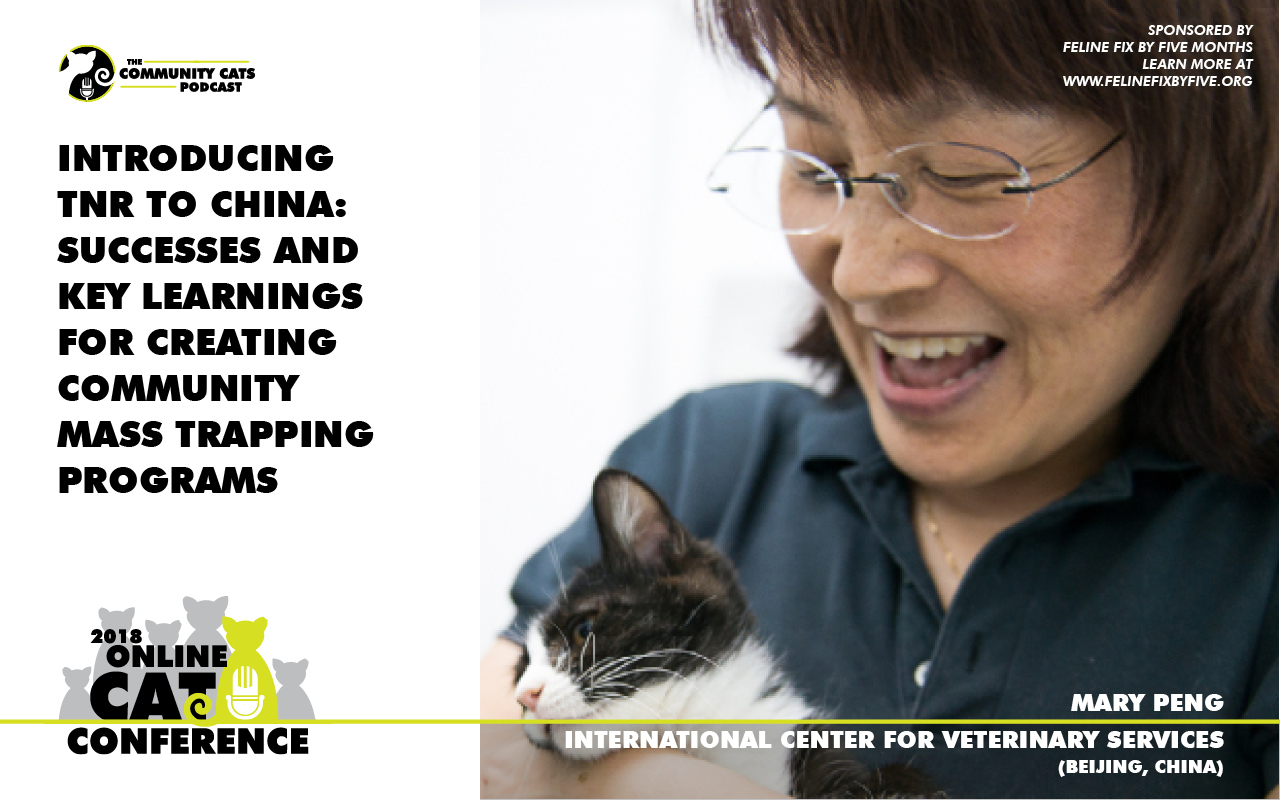 About Mary Peng
Mary W. Peng is the Chief Executive Officer and Founder of the International Center for Veterinary Services (ICVS), the premier full-service international standard animal hospital, pet care facility and humane animal welfare resource center in Beijing, China. Mary is a certified Trap-Neuter-Return (TNR) trainer and practitioner and teaches TNR best practices and manages the ICVS humane animal welfare and rabies vaccination programs across China. ICVS created the first global best practice, structured TNR program in China, launched in 2006. Mary is also a trustee of the Jane Goodall Institute Global Board of Directors and oversees the Roots & Shoots companion animal welfare and wildlife conservation programs.
---
11:30am-1pm EST: Workshop: Secrets of Success in the Small Shop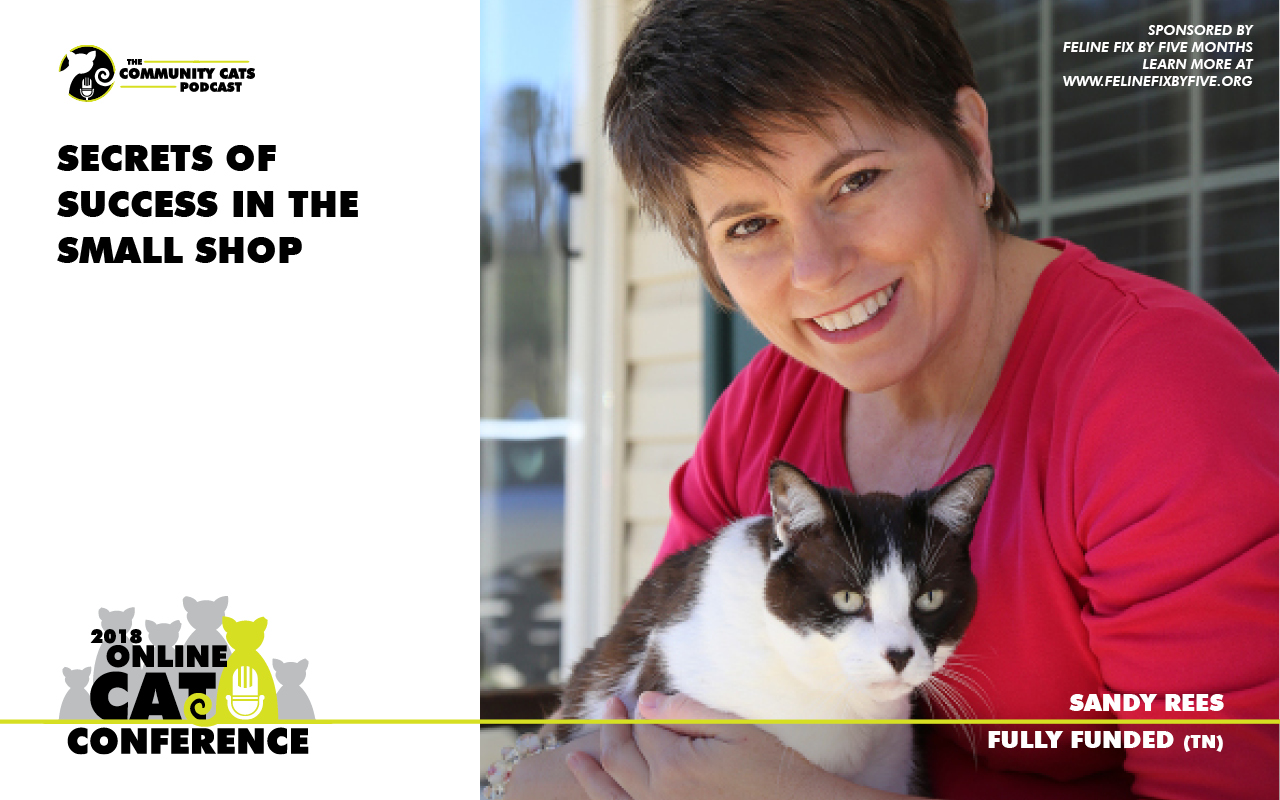 What if you could raise a lot of money to cover all your nonprofit's expenses? What if you could do it without selling T-shirts, without car washes, and without Buffalo Wild Wings night? What if you could not only raise money, but raise every last dollar you need to fund your budget - overhead and all? It's totally possible! It just takes the right message to the right people at the right time. Join us for this workshop and learn the 3 simple steps to fully funding your work so you can help more people and do it with less stress and more fun. We'll cover how to find ideal donor prospects, how to craft a heart-warming, wallet-opening message, and do it all with perfect timing so you never feel sleazy asking for money.

About Sandy Rees
Sandy shows nonprofit leaders how to fully fund their big vision, so they can spend more time changing lives instead of worrying about money. She has helped dozens of small nonprofits go from "nickel-and-dime fundraising" to adding 6 figures to their bottom line. As a trainer, she shows her students how to find ideal donors, connect through authentic messaging, and build relationships that stand the test of time, so that fundraising becomes easy and predictable. Find out more at www.GetFullyFunded.com.
---
1:15-2pm EST: Workshop: Treating Ringworm in Animal Shelters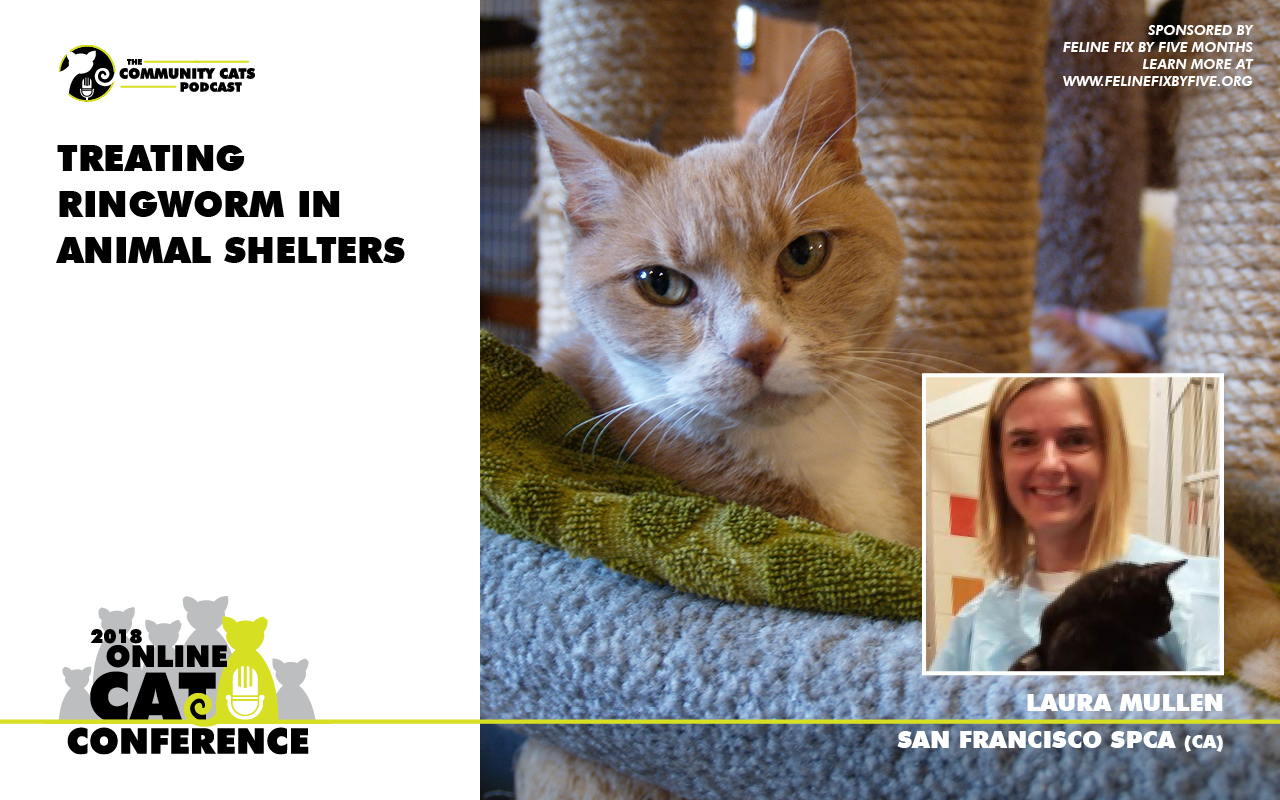 Treating ringworm in the shelter environment can be daunting and frustrating at times.  We will look at the successful SPORE Program at the San Francisco SPCA and see how clear protocols and volunteer engagement can help streamline ringworm treatment so it is more manageable in the shelter setting.

About Laura Mullen
Laura has been working in animal welfare for over 16 years in a variety of positions at the San Francisco SPCA.  Currently she runs the SPORE Program, which stands for Shelters Preventing Outbreaks of Ringworm through Education and we transfer in and rescue over 300 ringworm positive animals a year.  Education is her passion and she is a firm believer that with education and knowledge we can avoid using euthanasia as the only management tool for ringworm in animal shelters. Ringworm affects our most adoptable population and with some education we can learn the tools on how to safely detect, treat and manage ringworm in the shelter environment.  
---
2:30-4pm EST: Workshop: Why You Need a Healthy Pet Clinic, and How to Build One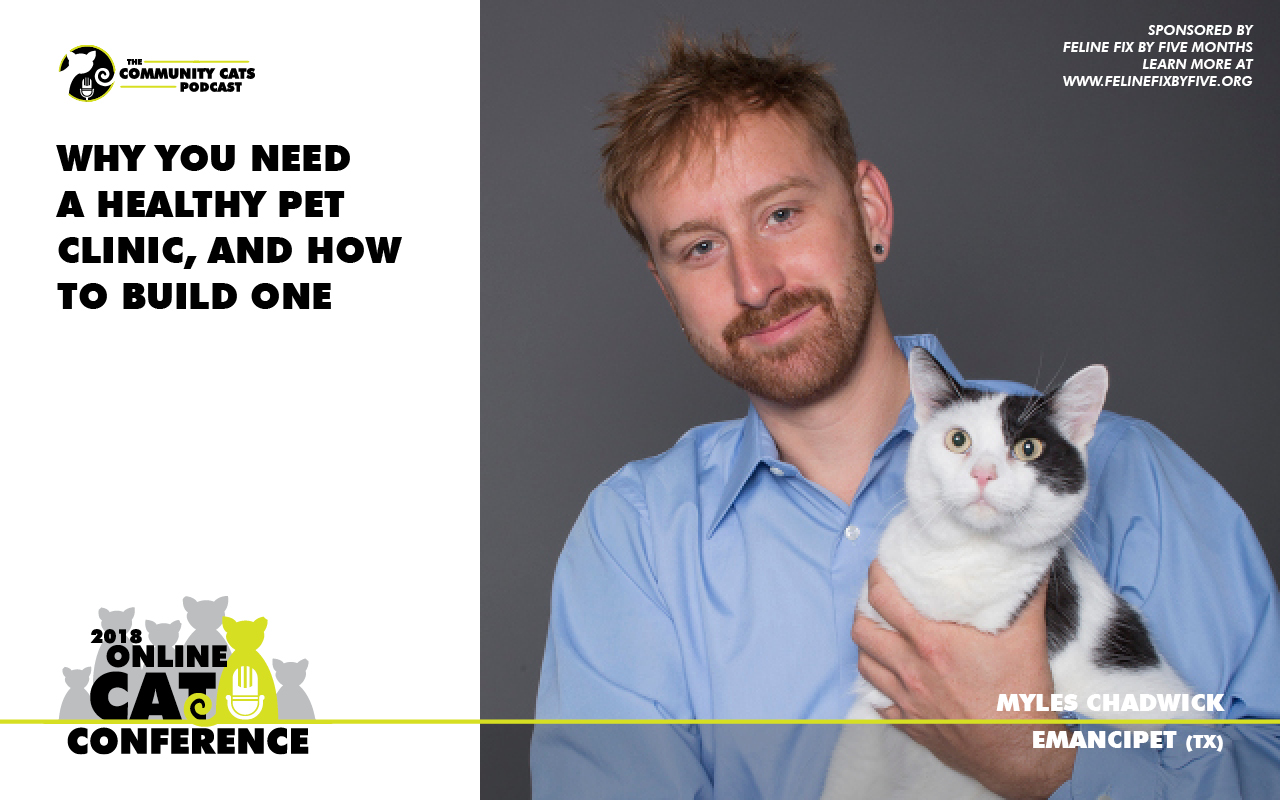 The inclusion of an affordable public "Healthy Pet" clinic in every community would begin to close the gap in services to lower income and underserved families, and reduce the number of cats and dogs without homes. In many middle to low income neighborhoods there are few (if any) truly affordable options for veterinary care. Pets without access to vaccines, spay/neuter, and other basic services are more likely to get sick, to have accidental litters, and to end up on the street or in shelters. In this presentation, we will share lessons learned and best practices for identifying and building a low-cost veterinary clinic for your community.  

About Myles Chadwick
Myles Chadwick is the Vice President of Emancipet New School where he helps to ensure that Emancipet's expanding network of clinics meet stringent quality standards, advance the mission, and uphold the core values of the organization. Additionally, Myles oversees Emancipet New School, which provides training to outside organizations interested in elevating or expanding their programs. 
---
4-5pm EST: Workshop: Getting 2 Zero in Australia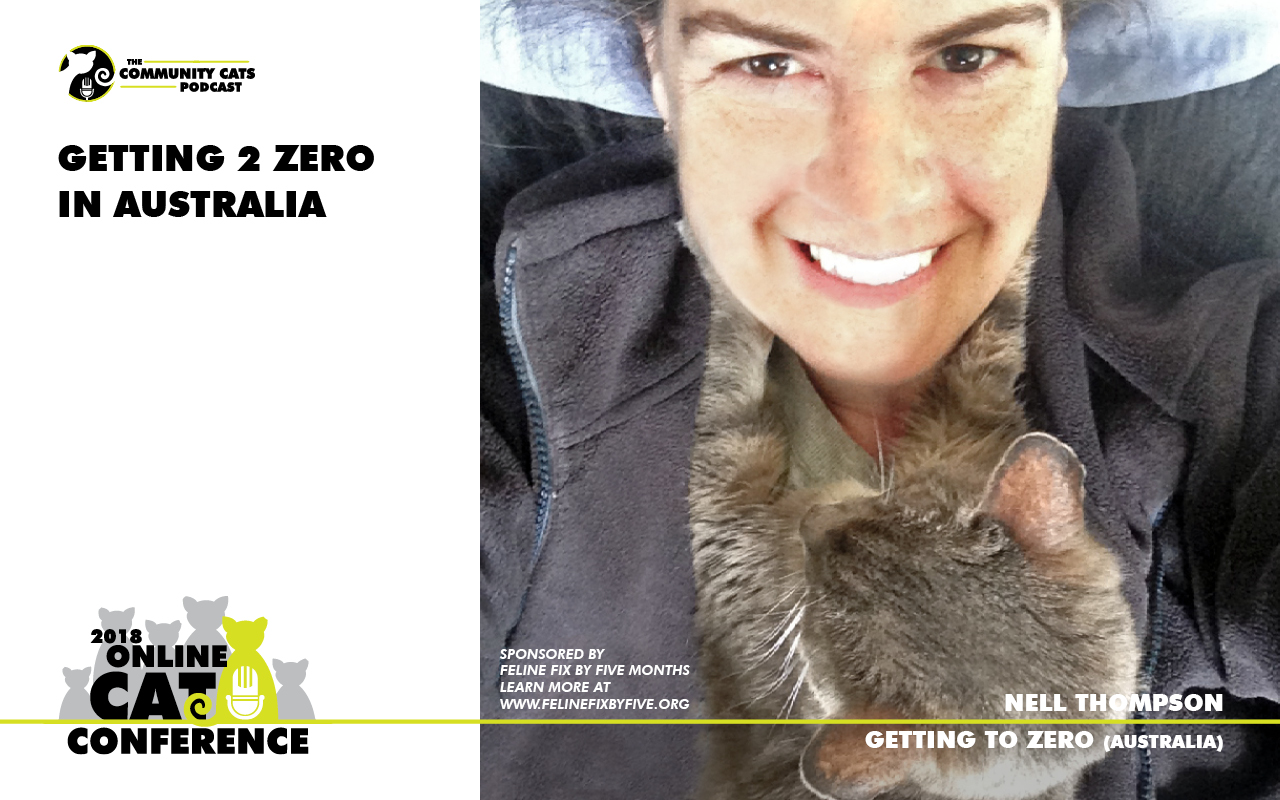 This presentation will cover the history and development of the Getting 2 Zero program and the results achieved so far. Nell will share how the program can help the people and pets of your community.

About Nell Thompson
Nell Thompson is the Coordinator of the Australian national Getting 2 Zero program where her background in shelter/pound operations and management and animal health is a great resource for Councils, shelters and all groups and individuals involved in the program. Nell has been on the Australian Institute of Animal Management Committee since 2013, she is currently the Secretary, and has worked in the animal welfare, care and veterinary sectors for over 20 years.

Nell is passionate about improving outcomes for pets who enter the shelter and pound systems and strongly believes that the best results occur when animal welfare and animal management are working together towards the same goals.
---
5-6pm EST: Workshop: What does a Humane Society do when an average of 15% of incoming kittens are FeLV+?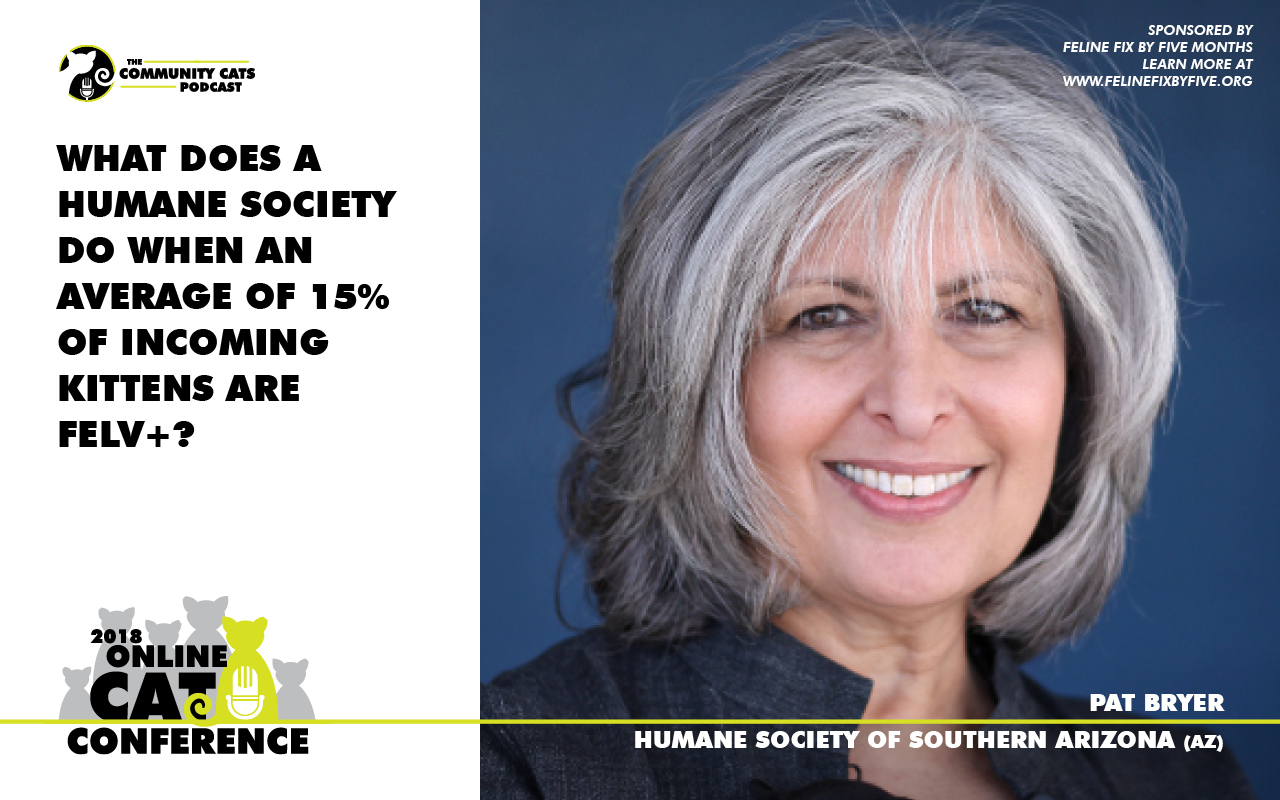 What we know about feline viruses has certainly evolved, and placement options have evolved too!  How one Humane Society solved placement barriers with research, a little bit of money, and education (and support from the organization.)

About Pat Bryer
Pat Brayer is the Humane Society of Southern Arizona's Clinic Director. Pat comes with an in-depth and comprehensive background in animal care and animal welfare, with a particular focus on feline diseases and the well-being of cats, particularly feral cats. Pat has served as President of the Board and Executive Director of the San Gabriel Valley Humane Society, which began its' very own, cared for feral colony over 10 years ago. Pat's own cats are all former feral cats (including a 16-year-old FIV+ boy named Toby), all of whom are living a very pampered lifestyle – safely indoors!  Pat has fostered hundreds of kittens, and has created a Kitten Kindergarten within the HSSA Clinic for feral kitten socialization by the Clinic team and 7 very dedicated volunteers.  There have been 130+ graduates over the past three years, and the 'current class' of 9 are expected to graduate just in time for the New Year!