There are so many great ways to spoil your cat this holiday! Designer pet products are everywhere, with more things available for cats than ever before. Many offer function that your cat can't resist and style that you will love. Check out these fab finds to pamper your kitty this Christmas and provide the best Best Holiday Gifts for Cats around!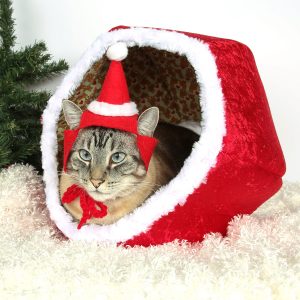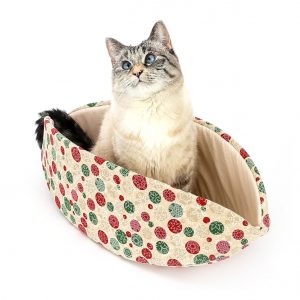 The Cat Ball & The Cat Canoe
The Original Cat Ball Cat Bed is one of the most popular cat products on the market. It comes in a huge variety of fun fabrics, including a holiday version in red velvet with white faux fur trim. The Cat Ball is the perfect cozy hideaway for cats, with two openings for easy access.
The Cat Canoe is another fantastic creation from the inventor of the Cat Ball. This open top bed cradles kitty in comfort. Also available in various colors and prints.
Available at thecatball.com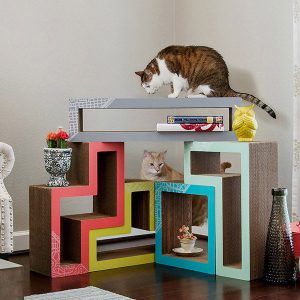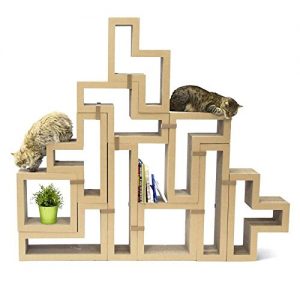 Katris Modular Cat Climbing Tower
Katris is a set of five different shaped pieces made from extremely durable corrugated cardboard. You can configure the pieces in any number of ways, creating a customized climbing and scratching paradise for your cat that looks great in your home. There are also colorful covers for the sides that let you match your décor.
Available at katriscat.com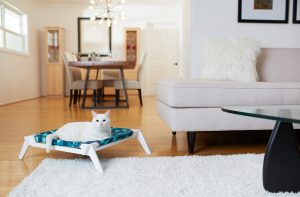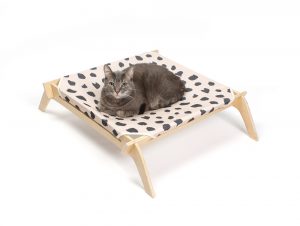 Designer Pet Lounge with Reversible Fabric Hammock from Primetime Petz
This lounge is a real favorite with the felines! The new Primetime Petz Designer Pet Lounge has a reversible, washable fabric hammock that molds to your cat's body. The sturdy wood frame assembles easily with no tools required. If you have more than one cat, you many need more than one lounge!
Available at shop.hauspanther.com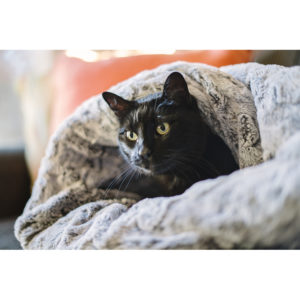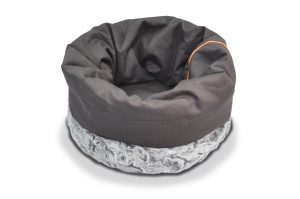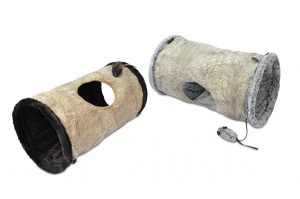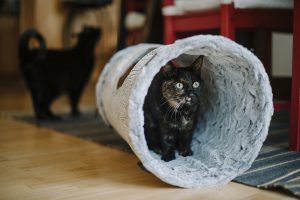 Faux Fur Luxury from Pet Lifestyle and You
Pet Lifestyle and You (P.L.A.Y.) is a San Francisco-based company that makes top quality pet products. Their Snuggle Bed and Cat Tunnel both use gorgeous faux fur and sturdy cotton canvas to create cozy hideaways and play spots for kitty. The Snuggle Bed is reversible and converts into a bucket bed, a pod, a cave or a soft mat. The Cat Tunnel makes a crinkle sound and has a peephole and dangling mouse toy for added entertainment.
Available at petplay.com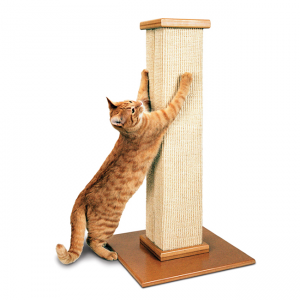 The Ultimate Scratching Post from Pioneer Pet
You really can't beat the Ultimate Scratching Post from Pioneer Pet when it comes to giving kitty a sturdy place to scratch. This sisal wrapped post measures 32" tall so cats can get a good stretch when they scratch.
Available at pioneerpet.com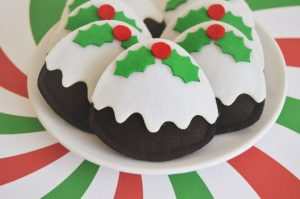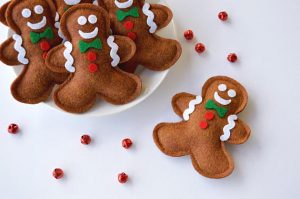 Handmade Christmas Cat Toys from House Cat Club
Spoil your cat this holiday with some tasty treats that you won't mind seeing on your living room floor! These adorable felt cat toys from House Cat Club are lovingly handmade and stuffed with organic catnip.
Available at housecatclub.etsy.com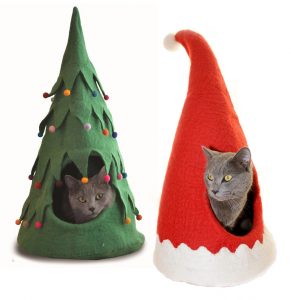 Felt Cat Caves from Karma Cat
Karma Cat's whimsical cat caves are handcrafted from pure wool with vibrant colors and fun designs. They have all kinds of fun designs including some holiday specific styles. Consider getting a holiday cat cave that you bring out each year as a fun surprise for your cat!
Available at karmacat.com
—-
Kate Benjamin has been writing about feline design since 2007 and is co-author with Jackson Galaxy of two New York Times bestselling books, Catification and Catify to Satisfy. Get more of Kate's feline design tips at hauspanther.com.