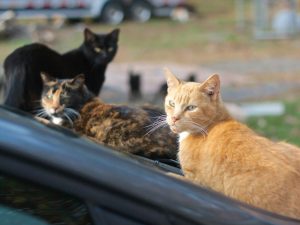 The Community Cats Grants are given out to 501 c3 organizations to help with spay/neuter programs.  In order to receive funds all groups must spay/neuter before adoption, not test TNR'd cats for FIV/Felv and share live release rates. Small organizations (annual revenue below $100,000) are given priority. This grant is a matching grant opportunity.
The definition of a Community Cat is "any cat from a targeted area that is free-roaming."  If it is outdoors and unsterilized it is considered a candidate for funding.
The organization must agree to try a new fundraising initiative (or a couple) to support spay/neuter of community cats with a goal of raising $1,000 in a 3 month period. Community Cats Grants will match up to $1,000 of fundraising efforts. Once a group raises the money, receives the match and then spends the funds, they can then re-apply for the program with another new fundraiser. All accepted groups must agree to attend monthly support conference calls and submit final reports. Applications are accepted on a rolling basis (you will be contacted within 30 days of your application submission).
We hope to fund as many qualified applicants as possible but we do have limited funds each year.  Also, most of the profits from the Community Cats Podcast will go into this fund so please subscribe to the podcast.
---
To apply for a grant, please submit the following information.
We will review and get in touch with you soon if we have any questions.
---